Heavy-Duty Elevator – Machine Room Less
Heavy-duty elevators are used in mass railway transit systems as rapid transit (metro), LRT.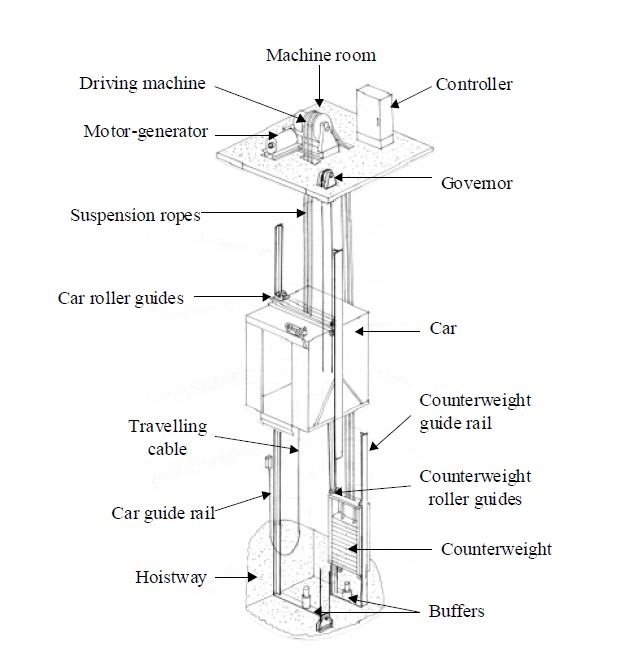 ---
A. Design Criteria
A. Operational requirements
Hours of operation shall be considered as twenty-four (24) hours per day, seven (7) days per week.
Elevator components shall be designed based on the following applied duty cycle during operation:

Three (3) Hours with 100% Rated Load
Six (6) Hours with 50% Rated Load
Fifteen (15) Hours with 25% Rated Load

Maximum dwell time per landing in these calculations shall be no more than 10 seconds.
A.2 Environmental Requirements
General: Elevators shall be capable of operating with full-specified performance capability while exposed to the following climatic and environmental conditions.
Interior installations: Elevators shall be designed to operate in a temperature range of plus five (+5) to plus one hundred and twenty (+120) degrees Fahrenheit, dry bulb; and all conditions of relative humidity while exposed to airborne dust and debris. Interior installations include facilities such as airports and controlled environments with no corrosive elements.
Exterior installations: Elevators shall be designed to operate while exposed to the natural elements of weather, including sunlight, rain, slush, snow and ice; all conditions of relative humidity while exposed to salt, de-icing chemicals, airborne dust, and debris, and corrosive elements; and in a drybulb temperature range of minus twenty five ( -25) to plus one hundred and twenty (+120) degrees Fahrenheit. Exterior installations should be used for all light rail, heavy rail, commuter rail and bus applications whether exposed to the weather or not.
A.3 Bearings
Bearings: All fixed machine and motor bearing housings shall be provided with a drilled, tapped and spot faced area in the vertical and axial axis to accommodate a transducer that a Fast Fourier Transform (FFT) analyzer requires. Permanently mount transducers on the drive bearings or where recommended by the machine manufacturer and run the wires into the controller to a panel with BNC connectors on the ends to accommodate the FFT analyzer.

Motor limit: rigid mount: .15 ips flex mount: .2 ips

Bearings shall be rated for an AFBMA L10 life as specified, under fluctuating bearing load. All bearings shall have basic dynamic load ratings.
A.4 Fasteners
Fasteners shall be compatible with materials being fastened.
Fasteners shall be furnished with self locking nuts or retaining rings (spring washers, toothed disks).
Fasteners shall be equal to or of greater corrosion resistance than the most corrosion resistant metals being fastened.
A.5 Ride Quality
All elevators shall have a maximum decibel reading of 70 Dba with the doors closed during a run in the up direction, measured 5 feet above the floor in the center of the cab.
---
B. Products
B.1 General
Elevator Use: Passenger
Contract Speed, in FPM: (as specified the minimum elevator speed should not be lower than that required to run the elevator the full length of travel in no more than 30 seconds.)
Car and Hoistway Door: Operation: Power High-speed, heavy duty (Minimum opening speed 3.0 FPS)
Door-Reversal Device: Non Contact door reversal device
Car Operating Panel: Stainless Steel with vandal resistant features
Car Position Indicator Stainless Steel with vandal resistant features
Car Direction Indicator Stainless Steel with vandal resistant features
Hall Call Stations: Single riser, stainless steel with vandal resistant buttons
Communication System: "Hands-Free"
Provide keyed switch in car operating panel or hall pushbutton station as directed to shut down elevator.

Table 1- Elevator Platform Size vs. Rate Load changes
B.2 Machine Components
B.2.1 Motor
Bearings shall be rated with an AFBMA L10 life of 65,000 hours.
The motors shall be of the alternating current reversible asynchronous or synchronous type of a design adapted to the severe requirements of elevator service. Motor shall be capable of developing the torque required to meet or exceed an acceleration rate of 2 ft/sec² for the elevator car.
A means to protect the windings and bearings from airborne dust shall be provided.
Insulation of all windings shall be impregnated and baked to prevent absorption of moisture and oil. The insulation resistance between motor frame and windings shall not be less than one megohm. The motor windings shall stand a dielectric test of twice the normal voltage plus 1000 RMS volts of 60 Hertz, alternating current for one minute.
Motor leads in the conduit box shall have the same insulation class as the windings. Motor lead wire shall be rated 125 C and shall be sized for 105 C at the motor nameplate amperes at 1.0 Power Factor per Electrical Apparatus Service Association (EASA) recommendations. Leads are to be numbered for clockwise rotation when facing opposite the shaft end.
The motor shall be designed to stand the severe loads encountered in elevator service and the windings shall have a minimum insulation temperature rating two ratings higher than the actual temperature rise of the motor, with a minimum rating of NEMA class F.
The motor shall be designed to the ASME A17.1 rated load requirements.
B.2.2 Brake
The brake(s) shall be of the self adjusting fail-safe (spring applied and electrically released) type provided with an external manual brake release and designed to meet the service factor demand of its intended use.
B.2.3 Geared MRL Machines
General Construction: The hoisting motor shall drive a grooved sheave through an approved means of transmission.
Motor: The hoisting motor shall be reversible alternating current, operated through Variable Voltage Variable Frequency drive. Motor speed shall not exceed 1800 RPM.
Brake: Disc or drum brake shall be securely mounted to the shaft and shall run concentric to the shaft. Disc or drum shall be machined to obtain a smooth and accurate face. The brake shall be spring actuated, direct current, electrically released, heavy construction with proper braking area for the load and speed specified. The brake shall be provided with sufficient power to stop and hold the car with full contract load. Drum brakes shall have two (2) shoes actuated by two separate compression springs. Disc brakes shall be of caliper or multiple disc design
Sheave: The sheave material shall be accurately machined of semi-steel of hardness BHN 220-250.
Gear Housing: The gear housing shall be divided horizontally at the centerline of the shaft to provide access to the gear. Suitable drain plugs and overflow pipes shall be provided.
Mounting: The gear housing, brake support and motor support (if foot-mounted motor) shall be mounted on a rigid bedplate.
Alignment of High Speed Shafts: Motor, brake and gearing shall be accurately aligned in the factory for total indicator readout not exceeding .007" TIR. Flange-mounted motors shall be aligned with the gear housing through machined registers. Foot-mounted motor alignment must be checked again after installation in the building, and when full load is applied; if alignment is not with the .007" TIR specified, then the motor, brake pulley and worm shaft are to be re-trammed on site.
Alignment of Worm and Gear: There should be no hard contact with worm on either corner or edge of gear tooth. Machines with adjustable sheave shafts shall have worm and gear this alignment field checked per the manufacturer's recommendation after the machine is set and load applied.
Dynamic Balance: The worm and its shaft, and the sheave, gear and gear spider shall be dynamically balanced as required to eliminate any source of noise or harshness.
B.2.4 Gearless Machine:
Sheave: The sheave material shall be accurately machined of semi-steel of hardness BHN 220-250.
B.3 Wiring
All wiring should be rated one size over the NEC table requirements for conductors. All interior elevator locations should use NFPA ratings for damp conditions, while outdoor locations should be rated for wet locations. Interior installations with a high water table should be rated for wet locations.
B.4 Cab Enclosure
Cab configuration and materials shall be per contract drawings prepared by the architect and as specified herein.
Cab Flooring:

Appropriate floor materials include:

Chemical Resistant Urethane
Terrazzo with Marble Chips in Epoxy
Clear Epoxy Resin with Vinyl Chips

Seamless and resilient elevator cab flooring shall be poured or laid in accordance with manufacturer's instructions over a type 316 stainless steel platform.
Resilient flooring systems shall be self-extinguishing, have 200° F. heat resistance, 11,700 PSI compressive strength, 2,200 PSI tensile strength, and 5,000 PSI flexural strength.
B.5 Ceiling Type
The clear height under the ceiling canopy shall be a minimum of 8'-0". Ceiling canopies shall be stainless or enameled steel not less than 0.109" nominal thickness.
Ventilation: 2-speed exhaust fan. Finish and material of fan enclosure and blade shall match the finish and material of the ceiling having a NEMA 4X rating. Exhaust blowers shall be designed with a hood.
B.6 Handrail Type
Handrails: 1-½ inches outside diameter type 316 stainless steel #4 brushed finish and wall connectors shall have security type fastenings and shall be the same material and finish as the handrail. Handrail height shall confirm with Code requirements placed on non-entry walls.
The handrail shall be able to support a load of 600 pounds measured in the center of the rail without separating from the wall.
 B.7 Hoistway Equipment
Entrance frames shall be of welded or bolted construction for complete one-piece unit assembly. All frames shall be securely fastened to fixing angles mounted in the hoistway and shall be of 2 mm type 316 stainless steel. Provide an additional type 316 stainless steel sill angle support. The sill shall be type 316 stainless steel.
Doors: Entrance doors shall be of hollow metal construction with vertical internal channel reinforcements. Panels front and rear, framing, operating levers, and integral hardware shall be type 316 stainless steel; panel shall be 2mm and have a No. 4 finish.
Entrance Finish: Finish shall be type 316 stainless steel #4 finish.
Sight Guards: type 316 stainless steel (Note: hoistway fascia can be avoided be recessing the hoistway landing sills, or if ASME A17.1 2000 rules apply by providing a door lock on the car door. It is recommended to plan on fascia in all front and rear opening installations.)
Fascia: shall be type 316 stainless steel.
Provide sill mounted closers at all landings.
Provide a vandal resistant access key switch in top and bottom landings.
B.8 Car Frame
A suitable car frame shall be provided with adequate bracing to support the platform and car enclosure. Provide welded or bolted ASTM 123 galvanized or type 316 stainless steel channel uprights affixed to crosshead and plank channels with welded or bolted bracing members and gusset plates which will remove strain from car enclosure.
B.9 Platform, Heavy Loading Type
The car platform shall be designed to accommodate one-piece loads weighing up to 25% of the APTA rated load, such as wheeled food carts, hand trucks, etc. The platform shall be type 316 stainless steel.
B.10 Equipment: Signal Devices And Fixtures
Car-Operating Panel: A type 316 stainless steel #4 vertical finish panel shall be provided with vandal resistant push buttons designed to bottom out against the panel plate and not the contacts, key switches.
Provide one car swing operating panel integral with a stationary return panel.
Braille/Arabic designations shall be flush with inconspicuous mechanical mounting.
Provide a service cabinet with a locked flush hinged or sliding door and integral certificate frame. Certificate Frame shall have durable Plexiglas window and be accessible from backside of locked door. Minimum window size, to be approved by the Owner. Cabinet shall contain the following key type controls:

A light switch.
Two speed fan switch.
Inspection switch, conforming with the Code.
Independent service switch.
A duplex 120 volt, A.C. GFI convenience outlet.
Emergency Stop switch.

Engrave the car operating panels with the following:

No Smoking. Minimum 1″ high lettering and graphic symbol.
Elevator Number over operating buttons. Minimum 1/4″ high lettering.
Elevator Capacity. Minimum 1/4″ high lettering.
Firefighters Operating Instructions. Minimum 1/8 inch high lettering.

Car Position Indicator: A vandal resistant car position indicator shall be provided integral with the car operating panel.
Communication: A hands free communication device shall be provided which has been designed in response to ADAAG requirements.
Car Lantern and Chime: A stainless steel vandal resistant directional lantern visible from the corridor shall be provided in the car entrance. When the car stops and the doors are opening, the lantern shall indicate the direction in which the car is to travel and an adjustable electronic chime will sound.
Hall Fixtures: Hall fixtures shall be provided with necessary stainless steel vandal resistant push buttons and key switches for elevator operation. Raised markings shall be provided for each push-button
Landing Passing Signal: An adjustable electronic chime bell shall sound in the car to tell a passenger that the car is either stopping at or passing a floor served by the elevator.
B.11 Door Operator Equipment
Provide a GAL MOVFR-HSL or approved equal door operator with VVVF drive and the following features:

½ hp motor and heavy duty sprocket, chain, belt, and sheaves.
Closed loop regulated speed performance.
Hand-held keypad programming.
Adjustments can be stored in the keypad and downloaded to another operator.
Adjustable door obstruction reversal.
Optical cams with LED indicators.
Test switches for open, close, nudging and speed zone set up.
Universal inputs for open, close, and nudging.
Reversing switch to back up the door reversal device.

Provide a non contact door reversal device with light immunity: The Door Reopening Device shall cause both the car and hoistway doors to reverse, should they detect an obstruction in the elevator entrance. The device electrical wiring shall be supplied with quick disconnects terminals to facilitate replacement. The infrared curtain detector shall include the following:

A protective infrared detector field extending from 1 1/2" above the car sill to a height of 68".
A fail-safe control system to prevent the doors from closing in case of power loss to the detector.
A one-piece full door height protective lens cover designed to be completely waterproof and to withstand impact, abrasion and vandalism.
B.12 Safety Devices
Shall be provided in accordance with the edition in effect of ASME A17.1 and any local jurisdictional requirements.
B.13 Hoistway
Roller Guides: Roller guides shall be mounted on top and bottom of the car frames to engage the guide rails.
Car Guide Rails: Tee-section steel rails with brackets and fasteners.
Buffer: per code.
Means of suspension: per code. If steel core ropes are supplied, a means to provide constant lubrication shall be provided. An alarm indicator shall be provided when the oil reservoir is at 25% of capacity.
B.14 Controller
A PLC-based controller shall be provided, governing starting and stopping, as well as preventing, damage to the motor from overload or excessive current. It shall automatically cut off the motor current and bring the car to rest in the event any of the safety devices are activated. The controller shall be mounted in a vented cabinet within the controller space room. The controller shall utilize soft start characteristics.
(Optional) The controller shall be designed to operate automatically on standby power.
Provide a separate battery powered unit that senses loss of power. Battery shall be 12 volt minimum, sealed nickel cadmium or gel cell construction. When loss of power occurs, elevator shall ascend or descend to nearest landing and open doors automatically. After a predetermined time, the doors shall close and the elevator shall remain inoperative until normal power is restored. The door open and alarm buttons shall operate under battery power. Reduced speed for evacuation on battery operation is permitted.
Elevator Drive System:

Non-Regenerative Variable Voltage Variable Frequency Drive. The drive shall be microprocessor and IGBT based using vector control algorithms. The algorithms shall incorporate a motor model to determine the electromagnetic state of the motor. The motor model shall also encompass a temperature compensation algorithm which is essential for speed accuracy.
Velocity shall be controlled by a feedback loop to within +/- 2% of contract speed and speed shall be independantly supervised.
Position of floors in the building shall be learned during a slow speed setup run. Once learned, floor locations shall be stored in non-volatile memory. Power loss shall not require the floors to be re-learned. Stopping accuracy shall be +/- 5 mm or less. Re-leveling shall be automatic.
Resistors shall be provided to absorb the power regenerated by the motor. They shall dissipate power only when the motor is regenerating. Control shall be by IGBT.

Maximum total harmonic distortion shall not exceed IEEE Std. 519 to be measured at the elevator disconnect.
---
C.  Testing
General

Contractor shall notify the Owner seven (7) days prior to each scheduled test Contractor shall perform testing in the presence of an Owner representative.
Contractor shall notify the appropriate local authorities having jurisdiction a minimum of seven (7) days in advance of final acceptance tests.
Contractor shall provide all instruments, materials, and labor required for tests specified herein.
Contractor shall pre-test all devices within his control and provide documentation to prove compliance prior to jurisdictional inspection.

Acceptance testing requirements

Testing shall be performed in accordance with ASME A17.2.1 procedures with the following additions or adaptations.

Test Period: The elevator shall be subjected to a test for a constant period of 24 hours continuous run, with full specified A17.1 (not APTA) load in the car. During the test run, the car shall be stopped at all floors in both directions of travel for a standing period of 10 seconds per floor without tripping the motor overload device.
Speed Load Tests: The actual speed of the elevator car shall be determined in both directions of travel with full contract load and with no load in the elevator car. Speed shall be determined by a tachometer. The actual measured speed of elevator car with full load shall be within 5% of rated speed. The maximum difference in actual measured speeds obtained under the various conditions outlined between the "UP" and the "DOWN" directions shall be checked.
Post Acceptance Inspection: After the elevator is accepted by the local jurisdiction, a second inspection will be conducted (without weights) to determine specification compliance above and beyond the code requirements of the acceptance inspection.
---
Source: apta.com; American Public Transportation Association- Heavy Duty Machine Room Less Elevator Design Guidelines – APTA RT-EE-RP-004-02;
---
Videos: