Guard Rail
Guardrails (also known as guard/ girder/ restraining/ check rails) are used in transit systems to reduce rail wear in sharp curves and to increase the track's resistance to flange climb derailment. Guardrails are also installed in track curves where the high rail wears rapidly, because they are considered beneficial in reducing the frequency and cost of high rail replacements. Guard rails are placed parallel to regular running rail along areas of restrictive clearance, such as a bridge, viaduct, trestle, or tunnel.

---
There are diffirent practices for restraining rail installation and that design and maintenance standards vary among transit systems. Guard rails are installed in a vertical or horizontal position according to design practices. The most common type of guard rail is a vertically mounted tee rail with about a 70- to 80-degree contact angle on the wheel flange back, as following figure shows.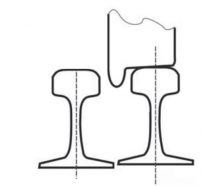 W/R (Wheel/Rail) contact with guard rail.
---
The horizontal mounted tee rail, shown in following figure, makes contact with the wheel on the wheel back with a 90-degree contact angle.

Wheel and horizontal guard/restraining rail installed at high or low position.
---
The girder rail is used both on high and low rail on the concrete pavement way to keep the flangeway on both rails.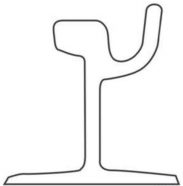 Girder rail.
---
The strap guard rail is an alternative to girder rail for the convenience of fabrication and installation.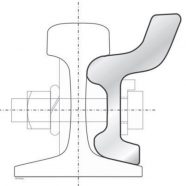 Strap guard rail.
---
Source: tcrponline.org; Transit Cooperative Research Program – Use Of Guard/Girder/Restraining Rails; wikipedia.org