Buenos Aires Rail Disaster (2012)
The 2012 Buenos Aires rail disaster, also known as the Once Tragedy, occurred on 22 February 2012, when a train crashed at Once Station in the Balvanera neighbourhood of Buenos Aires, Argentina.
There were about 1,000 passengers on board when the crowded eight-carriage train, whose working brakes were not activated, hit the buffers at the end of the line, crushing the motor carriage and the following two carriages, after approaching the station at a speed of 26 kilometres per hour (16 mph). 51 were killed and more than 700 were injured; the dead and seriously injured were in the first two carriages, which were packed with people who had moved to the front of the train to be near the station exit on arrival.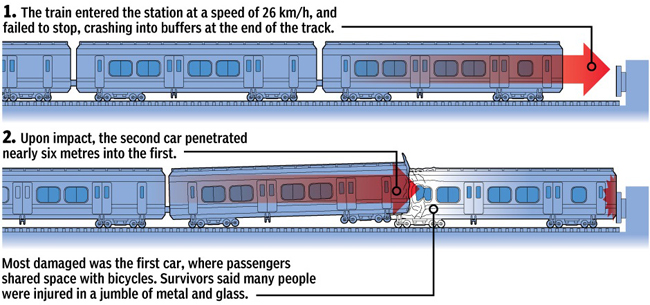 The Sarmiento Line, on which the incident occurred, is operated by Trenes de Buenos Aires (TBA). It was the second fatal accident on the line within six months, following the 2011 Flores rail crash.
---
Incident
Train number 16 was operating the Sarmiento Line local service 3772 from Moreno to Once during the morning rush hour on the first working day after a Carnival holiday. The train was reported to be traveling too fast— about 50 kilometres per hour (31 mph)— on entry to the station. It failed to stop before the end of the track at Once Station and at 8:33 crashed into the buffer stops at a speed of 26 kilometres per hour (16 mph). The motor carriage and the following two carriages were crushed; the second carriage was telescoped 7 metres (23 ft) into the first. Several passengers described the impact as an explosion.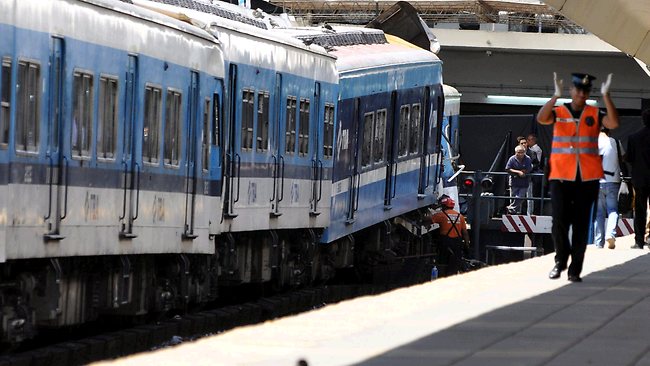 ---
Investigation
Initially a union leader said that the train had been working well, and there had been no problems with the brakes at previous stations. Some passengers reported the same. The driver, 28-year-old Marcos Antonio Córdoba, was taken into custody but later released by the investigating judge over the objections of the prosecutor after declaring under oath "I tried to brake twice, but the mechanism failed." He also activated the hand brake, which also failed. A judicial source said Cordoba told investigators: "At each station he advised the dispatcher by radio that he had problems with the brakes." He reportedly said he was told to keep going.
Source: wikipedia.com, nationalpost.com