Balise
Balise is an electronic beacon or transponder placed between the rails of a railway as part of an automatic train protection (ATP) system. Transmission device (passive transponder) that can send telegrams (or tele-powering) to an on-Board subsystem passing over it. The on-board system tracks the train's location by counting wheel rotations, and correcting at fixed locations known as balises. Balises constitute an integral part of the European Train Control System, where they serve as "beacons" giving the exact location of a train. A balise which complies with the European Train Control System specification is called a Eurobalise.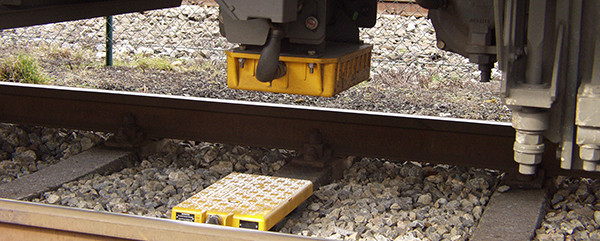 Eurobalise is the European system for the transmission of information relevant to safety between the train and the trackside equipment. It's a function of ERTMS (European Rail Traffic Management System) and one of the sub-systems of ETCS (European Train Control System).
It is used at all ERTMS/ETCS application levels (Level 0, Level 1, Level 2, Level 3 and Level STM).
The Eurobalise system consists of:
Balise: beacons, fixed or controlled type, situated along the railway track, which are energised and enabled to transmit only when the train antenna is above them;
On-board transmission system: consisting of the antenna unit and BTM (Balise Module Transmission) function;
Trackside signalling system: consisting of the LEU (Lineside Electronic Unit) and other external equipment involved in the signalling process.
---
ERTMS Level 1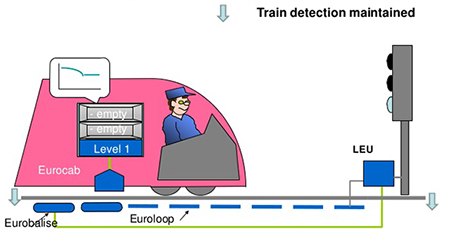 ---
ERTMS Level 2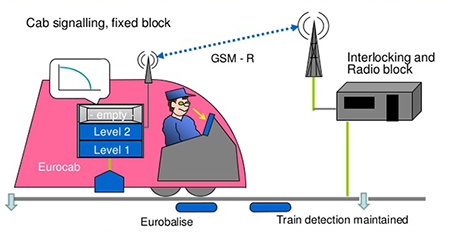 ---
ERTMS Level 3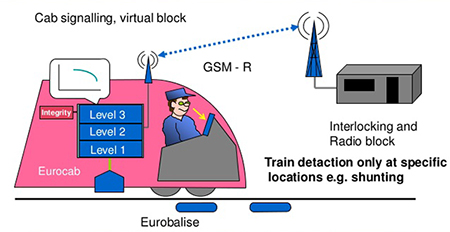 ---
The system function of balise information transmission system is accomplished by two signal transmission processes, i.e., the tele-powering transmission process where the on-board balise transmission module (BTM) radiates energy waves to activate the ground balise to start to work and the up-link signal transmission process where the ground balise transmits important control information to the train subsequently.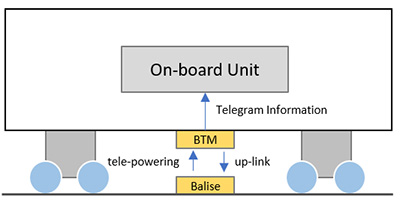 Through the two processes, the ground-train point-mode information transmission is achieved, and the telegram information including geographical position, route data and temporary speed limitis passed to the on-board unit which continuously calculates the dynamic speed profile from these data and other information concerning train performans, thus realizing the real-time supervision of train speed. Therefore, balise information transmission system is very important for train operation safety.

---
Sources: jpier.org, rina.org, slideshare.com
---
Videos: